MYCOLOGY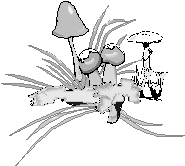 (still under construction !)
Introduction.
I used to pick mushrooms already in my early childhood along with my parents in the woods where we lived, and in the early 50-ties there was not many people who dared to eat them ! At that time, however, we picked mainly chantarelles.
Not untill 1978, I begin to extend my knowledge on other edible fungi, and in a rather short time I discovered the rich diversity of mushrooms in my surroundings, and the apparently thousands of "unknowns" not illustrated in common books on fungi! I got fascinated, and subsequently I increased my knowledge in the years to come, thanks mostly to the late Wilhelm Ramm (1921-1982), a local, very knowledgeable man, who had collected and studied all kinds of fungi in our municipality ever since the late 40-ties, and he became an inspirator and mentor, although he unfortunately past away much to early.
And at that time I got company with my good friend Øyvind Weholt, and we got mutually inspirated and extended our knowledge. He mostly with the agarics, while I focused on the cup-fungi (Pezizales). And we became in 1979 members of the Mycological society of Fredrikstad, founded by Thor Dybhavn 1973.
....to be continued
* Evolution, taxonomy and phylogeny of operculate discomycetes (order Pezizales, Ascomycota).
* Ecology of Pezizales.
* Arctic and alpine mycology with emphasis on the Pezizales.
* Conservation and preservation of endagered, vulnerable and rare fungal localities.
* Entomopathogenic fungi
http://biologi.uio.no/bot/ascomycetes/Taxa/Stromatinia.html
* Hygrophoraceae and their ecology
* Deep mycology, philosophical mycology and mycosophical considerations
#

Name

Community

year

1

Hygrocybe glutinipes var. rubra

Bon

Fredrikstad East

1983

2

Hydropus conicus

Weholt

Grimstad, Borge,

Fredrikstad

1984

3

Morchella pseudoviridis

Jct.

Kråkerøy, Fredrikstad

1984

4

Morchella pseudoumbrina

Jct.

Kråkerøy,

Fredrikstad

1984

5

Morchella conicopapyracea

Jct.

Torp, Borge,

Fredrikstad

1984

6

Morchella eximioides

Jct.

Nabbetorp, Fredrikstad

1984

7

Morchella norvegiensis

Jct.

Torp, Borge, Fredrikstad

1984

8

Boudiera acanthospora fo.albida

Krist.

Røsæg, Rakkestad

1985

9

Myriosclerotinia luzulae

Schum.

Borge, Onsøy in Fredrikstad

Ullerøy, Skjeberg

1985

10

Leucoagaricus cinerascens var. riparius

S. Sandøy, Hvaler

1985

11

Russula melitodes fo. coloratipes

Ulfeng ,Borge, Fredrikstad

1986

12

Entoloma kristiansenii

Noordel.

Skjærviken, Fredrikstad

1987

13

Psatyrella caespitosa

Weholt

Torsnes,Borge, Fredrikstad

1987

14

Marcelleina pseudoanthracina

comb.nov.

Torp, Borge, Fredrikstad

1987

15

Ascorhizoctonia ascophanoides

Torp, Borge,

Fredrikstad

1989

16

Lambertella langei

Skjeberg, Sarpsborg

1989

17

Lamprospora kristiansenii

Benkert

Asmaløy, Hvaler

1990

18

Moravecia hvaleri

Benk.& Krist.

Asmaløy, Hvaler

1999

19

Boubovia vermiphila

v.Brum.& krist.

Kirkøy, Hvaler

1999

20

Scutellinia halophila

ined.

Asmaløy, Hvaler

21

Pulvinula sp.nov.

Skjærviken, Borge

22

Pulvinula sp.nov.

S. Sandøy, Hvaler
NEW SPECIES DISCOVERED BY ROY KRISTIANSEN




Name

Reference

Morchella pseudoviridis

Jct.

Morchella pseudoumbrina Jct.

Morchella conicopapyracea

Jct

Morchella eximioides

Jct.

Morchella norvegiensis

Jct.

Myriosclerotinia luzulae
Schum. & Kohn

Entoloma kristiansenii

Noordeloos

Lamprospora kristiansenii

Benkert

Ascorhizoctonia ascophanoides

Yang & Kristiansen

Marcelleina pseudoanthracina

comb.nov.

Kristiansen & J. Morav.

Lamprospora norvegica

Benkert

Aas

& Kristiansen

Boudiera acanthospora

forma alba

Kristiansen

Octospora subglobispora

Benkert (Leg. Sigurd Olsen)

Moravecia hvaleri

Benkert & Kristiansen
http://www.mycokey.com/MycoKeySolidState/genera/Moravecia.html

Kotlabaea trondii

Benkert & Kristiansen. (Leg.T.Torjesen)

Boubovia vermiphila

Brumm & Kristiansen.




http://www.mycokey.com/MycoKeySolidState/genera/Boubovia.html
OTHER DISCOVERIES OF RARE OR UNUSUAL SPECIES
Name

Reference

Operculate discomycetes

(Pezizales, Ascomycota)

Aleuria bicuc

u

llata

(Boud.) Gill.

Kristiansen 1985

Marcelleina georgii

(Svcrek)J.Mor.

Moravec 1985

Lamprospora maireana

Seaver

Kristiansen & Schumacher

1993

Boubovia luteola (Velen.) Svrcek
Kristiansen & Schumacher 1993

Neottiella ricciae (Crouan)LeGal
Kristiansen & Schumacher 1993
Ascodesmis nana Brumm.

Kristiansen 1994

Ascodesmis sphaerospora

Kristiansen 1994

Ascodesmis nigricans

Kristiansen 1994

Ascodesmis microscopica

Rhodoscypha ovilla

(Peck)Diss.&Sivert.

Chalazion helveticum

Dissing

Kristiansen 1990

C.sociabile

Diss. & Sivert.

Kristiansen 1990

Ascobolus

cervinus

v. Brummelen & Kristiansen 1997

A.demagei

A.behnetziensis

A.amoenus

A.foliicola

Helvella

terrestris

(Pindara terrestris)
Landvik et al. 1999

Thecotheus

holmskjoldii

Landvik et al. 1999

T

hecotheus

keithii

T.crustaceus ??

Pulvinula ovalisp

ora

Kristiansen 1985

Scabropezia flavovirens

Trichophaeopsis bicuspis

Boudiera purpurea

B.acanthospora

Boudiera dennisii
Boudiera areolata
Lamprospora

tubercullata

Lamprospora arvensis

Lamprospora cailletii
Lamprospora anullata

Spooneromyces laeticolor

Pachyella hydrophila

(Peck)Pfister
Octospora wrightii
Octospora moravecii

Otidea nannfeldtii

Otidea myosotis Harm.
Flavoscypha phlebophora Harm.

OTHER ASCOMYCOTA

Caccobius minusculus

Rutstroemia rhenana
Sclerotinaceous species
Ciborinia

Rutstroemia

Lanzia

Lambertella
Stromatinia rapulum
BASIDIOMYCOTA
Agaricales

Volvariella caesiotincta
Agaricus
http://biologi.uio.no/bot/ascomycetes/Taxa/Stromatinia.html http://www.mycokey.com/MycoKeySolidState/species/Stromatinia_rapulum.html http://www.mycokey.com/MycoKeySolidState/species/Stromatinia_rapulum2.html

Richard P. Korf (19xx- ), American, world leading mentor on Discomycetes.

http://www.mycotaxon.com/407korf324.pdf

Henry Dissing (19xx - ) Danish discomycetologist





Sigmund Sivertsen (19xx - ) Norwegian.

Trond Schumacher (1949 - ) Norw. Professor of Botany

Dieter Benkert (1933 - ) German expert on bryophilous discomycetes